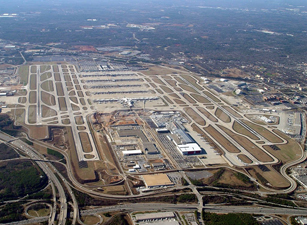 The "Hartsfield-Jackson Atlanta International Airport" which can be shown on the left is a very big commercial airport which serves almost 1,000 flights a day! also, this air port is the central hub of Delta Airlines. (Wow!)
The airport in Atlanta offers lots of services:
The Plane Train
MARTA Station
Restaurant & Cafe
Rental Car Center
Atlanta Airport Parking
As you already know, we are mostly interested in in the Atlanta Airport Parking. We went on a trip to the parking lot searching to review it and our findings are as follows:
The Atlanta Airport Parking is a very big place! very big! so we did a test, one of our crew team, David, parked our car without looking around too much, then we dropped David somewhere in the parking lot and we wanted to check how much time will it take him to find the car he just parked in the airport parking (just to make sure, we are not talking about different parking companies but on the parking owned by the Atlanta Airport). We have to say that the results were quite good, he was able to find the car quite fast, something like 15 minutes which is very nice.
Other then that, the long term parking is fixed out very nicely, it is very clear where are the available parking spot and we also compared the prices to other preflight parking services around and found out that Atlanta Airport Parking is considered to be quite a cheap parking.